As the beginning of the school year inches closer and our faculty and staff finalize our school-specific plans for August, we will be sending out weekly updates to help our families understand and prepare for the changes that will accompany reopening. 
We hope to use these weekly updates to answer your questions and concerns, and we strongly recommend that you read through the weekly information carefully.
Below you'll find a variety of questions and answers that we hope help provide insight and ease your concerns regarding the reopening of Saint Michael School.  This is the most up to date information we can provide you, but please note that our school reopening plan is fluid.  The following plans and guidelines are subject to change at any time.  As always, please feel free to contact the school office at contact@saintmike.org.
This information will continue to be posted on this page with frequent updates.  
St. Michael School Reopening Updates – Update #4 – 7/30/2020

Tuition
We will be waiving all late fees for tuition payments until August 15th.
Faculty & Staff
We are excited to announce some great changes for the coming school year!

Mrs. Millerin

(

formerly 2nd Grade

) and

Miss Joyce

(

formerly PreK 4

) will be our two newest Kindergarten Teachers! They will join Mrs. Hahn as we will have three classes this year.

Mrs. McPartlin

(formerly Kindergarten) is very excited to use her Special Education degree as our new Resource teacher for our Primary Grades.

Mrs. Bartlett

(

formerly 3rd Grade

) will be our newest Second Grade teacher, focusing on Science and Math for both classrooms. Mrs. Brennan will be teaching Reading and writing for both classes.

We also bid farewell to the wonderful

Mrs. Gloria Chavka

, who has taken her retirement this year. We were very blessed to have her as a Kindergarten Aide for many years and she will be deeply missed.
Returning to School Clarification
As of today, there are two options for school in the Fall. 

Return in person.

Choose the eLearning option from the

Archdiocese of Chicago. This option will be accessible per trimester. Once a student joins the eLearning option, they will remain in that program for the entire trimester. Upon completion, you have the option to choose another trimester of eLearning through the Archdiocese program, or return to SMS in person.

Religion classes will be taught by your student's St. Michael Teacher.
eLearning Option 
If you plan on using this option for the coming school year please

fill out this form. 

Please complete this form by 4:00 pm,

MONDAY, AUGUST 3RD 
Buses
We are awaiting the final confirmation of bus service from District 135.

We will contact you as route information becomes available.
In Case of Emergency, Grab your Charger…
You have decided to send your child(ren) back to school. What happens if schools are mandated to close again at some point during the school year?

St. Michael will transition to eLearning for all students. 

Students will be required to check-in for attendance each morning, Grades 4-8th will utilize Zoom and Google Classroom, Grades PreK-3rd will use SeeSaw and Zoom.

St. Michael eLearning will combine teacher-led live Zoom classes, independent work, and teacher recorded lessons for all grade levels, subjects, and specials.

Students will have an established class schedule with specific meeting times, however, we will record Zoom instructions for those students who are unable to participate in live sessions.

Assignments, quizzes, and tests will be graded.

Students in Grades 4-8 would be expected to be engaged between 4-5 hours each day, with a combination of direct instruction, independent work, and collaborative activities. Student workloads and "technology time" will decrease in the lower grades to align with research-based best practices.

Teachers will be accessible to answer questions live each day during scheduled office hours. 

For students in PreK-3rd grade, we will work with families to help acquire technology devices if needed.

A more in-depth example of schedules will be distributed soon, as we are currently awaiting final requirements from the Archdiocese of Chicago.
Masks
Gaiter Masks, or sleeve style masks that go over the whole head will be allowed.

This mask type may be ideal for our younger students – they can be pulled down, but still remain on the student and will help reduce lost/soiled masks.

Homemade masks are also allowed.

When students are not wearing their masks, we will be placing them in a paper bag assigned to them (CDC recommendation) to prevent loss or contamination. As per the guidelines set forth by the Archdiocese, using lanyards for masks when not in use will not be allowed. 

We ask that the masks do not have distracting pictures or large writing on them
Cohorts
Previous information stated that the school would quarantine after two confirmed cases of COVID-19 in a cohort. 

Following IDPH guidelines the Archdiocese has changed the procedure. A cohort will be quarantined for ONE confirmed case of COVID-19.
Home & Supplies
We will be encouraging students to come to school with a water bottle (sealed lid, NO GLASS). Per CDC recommendations we will be shutting down shared water fountains in the building.

We encourage your children to spend some time each day wearing their face covering around the house as we prepare to start school.

We encourage students to practice opening snack/lunch items such as juice boxes, thermos', and pre-packaged foods. Adults will not be able to assist in opening these items. 
IMPORTANT: Please do not worry if you cannot find Clorox wipes at stores for your classroom supply lists. We are very aware that supplies are limited for many items on the lists.
Building
In order to maximize the distance between students, we will be using the small gym, MPR, and a portion of the Commons to serve students lunch. Preschool will have lunch in their classrooms as students will be distanced 6' apart. 

To provide adequate space, the Nurse's Office will be moved to the South Commons, directly next to the main entrance.

Classroom photo examples: Not all classrooms are pictured because they remain in the process of setup.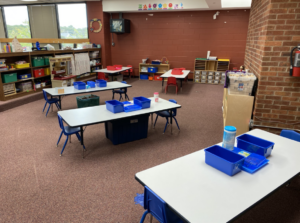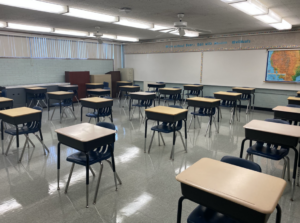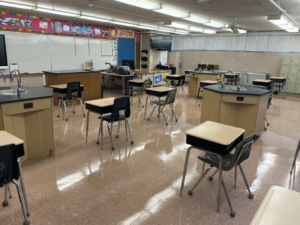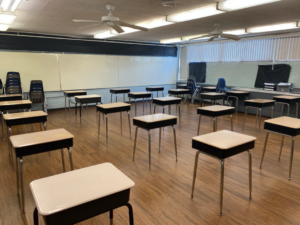 St. Michael School Reopening Updates – Update #3 – 7/17/2020
Q: Why are we starting school based on last names? Why the half-day start?
A: The first days of school are always hectic and this year will be no different. We feel that having half a class arrive to review policies and procedures in a small group setting either Thursday or Friday will allow students and staff to ease into the new procedures and routines. We wanted to make sure that families with multiple students were able to send the entire family on the same day.
Q: Why are we starting with a half-day of school?
A: As much as we love our students, we do feel that a six-month hiatus from school will require some adjustments for each student and a half-day will allow us to introduce our new routines and expectations, while not overwhelming students with too much information.
Q: Tell me more about these cohorts?
A: Cohort is the term being used by federal, state, and local agencies when discussing our model type. We thought it would be a good idea to keep our vocabulary similar to avoid confusion. Specifically at St. Michael, when we refer to a cohort we are speaking about a homeroom.
Q: Are the cohorts comprised of students based on a student's last name?
A: No, students will be placed in homerooms "cohorts" as they normally would (lists coming in early August) and family names will not play a part in those groupings.
Q: What would be a typical cohort size?
A: Class sizes vary by grade levels, homerooms in KD through 4th grade will remain around 20 students per homeroom (cohort) and Grades 5-8 will be around 25 students.
Q: How far will students be separated?
A: We have removed all non-essential furnishings from each classroom. Students will be separated and stationed at individual desks as close to 6' apart as possible.
Q: Why masks if they are social distancing?
A: The mask mandate is a requirement of the State and the Archdiocese. If students are separated by 6′ they are allowed to remove masks. Teachers will have the ability to take classes outside to allow for safe removal of masks, and spaces inside the building that will allow for a full 6′ separation to all for mask removal throughout the day as well.
Q: Will parents be able to see room setups before school starts?
A: Why yes, we will have templates and photos of classrooms out next week. Rooms are almost completely cleaned and as our wonderful maintenance crew moves desks into place and we will send those photos out.
Q: My child has been playing on a travel sports team and has traveled out of state, we decided to take a last-minute vacation before school starts and/or we have been out of state at our lake house this summer, do we have to do anything special before school starts?
A: While we are glad that students are exercising and families are enjoying the summer break, per the Archdiocese policy if families travel to states that the CDC has identified as hot spots, students are asked to quarantine at home for 14 days before returning to school. August 6th is 14 days from the start of school.
Q: My child has an underlying medical condition that prohibits them from wearing a mask, how will this be addressed?
A: According to our current guidance from the Archdiocese of Chicago, we'd only consider accommodations to the mask issue if it was formally part of a student's IEP/SSP/Medical plan. This would entail more than just a doctor's note. Likewise, our plan requires that students be six feet or more away from all individuals when masks are removed. Thus, if a student can never wear a mask, we probably could not accommodate them and they would need to transition to the virtual option. Additional questions should be directed to Mr. Smith.
Q: Will the lunchroom be utilized or will students be eating in the classrooms?
A: Per state and Archdiocese requirements students may not remove their masks unless they are at least 6' apart. Our lunchrooms provide the safest and only space in the building to meet those requirements. No more than 50 students will be seated, spread out at least 6' apart to have lunch. We will also be adding additional time between each lunch period to allow for extensive cleaning between cohorts.
Q: Why is a cohort not quarantining on the first confirmed case and only the second?
A: This procedure is the most updated recommendation from the CDC, ISBE, and the Archdiocese of Chicago. That being said, the Archdiocese has informed principals that this policy is being reviewed and may change in the near future.
Q: Someone in my child's cohort was diagnosed with COVID-19, can I self quarantine my child?
A: Absolutely, we want each child and family to feel as safe as possible. Daily assignments will be emailed home during that time.
Q: If my child's cohort (homeroom) goes into quarantine, are siblings required to quarantine as well?
A: This answer is still not clear and the Archdiocese of Chicago has been working with an epidemiologist and many other medical professionals to finalize that answer.
Q: When will masks breaks occur?
A: Mask breaks will be spaced out throughout the day. Mask breaks will be very frequent, especially in the first few weeks. We are encouraging our teachers to utilize space outside for classroom instruction to allow students more opportunities to remove masks. Our students in PreK will not go longer than 30 minutes without a mask break, KD-3rd will not go longer than 60 minutes without a mask break, and 4th-8th will not go longer than 80 minutes without out a mask break. We will be providing a more detailed daily schedule shortly.
St. Michael School Reopening Updates – Update #3 – 7/16/2020
Q: Where can I read the Archdiocese of Chicago guidelines for schools reopening?
A: Reopening with Trust: A Planning Framework for the 2020/21 School Year
Parent FAQ
Q: I work in the medical profession, how can I help?
A: If you would like to send us some information and tips for maintaining healthy routines we would love to see them. If you would be willing to join our faculty Health and Safety Team members even better!
Q: When will Saint Michael School reopen?
A: Our first days of school will be Thursday, August 20th and Friday, August 21st.  
If your student's last name begins with the letters A-M, they will attend on Thursday, August 20th from 7:30am – 11:00am.  

Students with last name letters N-Z will attend on Friday, August 21st from 7:30am – 11:00am. 

All preschool students will attend either Thursday or Friday according to their last name as mentioned above.  Their school day will be 8:30am – 11am.  Please look for further instructions in an email from Mrs. Paetow.
Drop off will continue to begin at 7:00 am.  This year, students will be gathering outside in their cohorts in the parking lot until 7:20 each morning. Additional information and maps about arrival and dismissal procedures will be distributed closer to our start date. 
After the first week of staggered return, students will resume normal school days/hours (Monday thru Friday, 7:30am – 1:50pm) beginning Monday, August 24th.
Q: When and how will school forms and paperwork be sent out?
A: Most of the required forms will be emailed and you may submit your information digitally.  Some forms you will need to print, fill out, and bring in on the first day(s) of school.  You will receive this information via email next week.
Q: When is Welcome Back Night?
A: Welcome back night will take place virtually on Tuesday, August 18th.  An email with instructions for finding teacher videos will be sent to you on August 18th.  The videos are not live and will be available for you to view at your convenience.
Q:  When do we bring our school supplies?
A: Please bring supplies on your child's first day of school, either Thursday, August 20th or Friday, August 22nd. If your child did order a School Supply Kit they will be available to them on their first day of school.
Q: Can you provide some clarity around our learning options?
A: Yes, essentially we are looking at three options/possibilities for the coming school year.
In-person schooling:

the details of which are discussed in this and subsequent FAQ's.

Archdiocese eLearning:

In the event that a family would like to remain a part of the SMS Community, but does not yet feel comfortable sending their child to school in-person, the Office of Catholic Schools will be utilizing a third-party vendor to establish an online learning environment. Many details of the program have not yet been released, but families will be able to opt-in/out of the eLearning each trimester.

SMS eLearning:

Students who physically attend school, and in the event of a State Mandate or mandatory school quarantine will utilize the SMS eLearning plan. Specific plans will be provided in the coming weeks; but utilizing feedback and recommendations from our parents, teachers, universities and professional groups we have developed a plan that will involve daily video lessons from their teachers for each core subject, as well as rotating interactive Zoom office hours throughout the week to provide flexibility for students to connect with teachers. A central, grade-specific location to find daily assignments, a singular online platform in grades 4-8 (Google Classroom), and PreK-3rd grade (SeeSaw).
Q: When will class lists be released?
A: Class lists (cohorts) will be released in early August.
Q: Who will be in my child's "cohort" and how will it operate?
A: Students will be assigned to a cohort, which will correspond to their homeroom class and will remain with those same classmates throughout the day. Students within a cohort will remain physically as far apart as possible to prevent the spread of illness.  Your child's homeroom teacher will be a part of their assigned cohort.
Special's Teachers, aides, and administration will move into classrooms and remain at least 6 feet apart from students while teaching. Students will remain in their classrooms during all instruction, while teachers will move between classrooms.
Q: Will there be bus service?
A: We are still awaiting information from District 135 regarding bus service. We hope to learn more after the next District 135 Board Meeting scheduled to take place on July 23rd. 
Q: What is the new arrival and dismissal procedure?
A: We continue to actively finalize our arrival and dismissal logistics.  After fine-tuning our plan, additional information about the procedures will be distributed closer to our start date.
Q: What will social distancing in the classrooms look like?
A: Non-essential furnishings, classroom rugs, and learning areas have been removed from classrooms to allow additional room for students desks to be separated as much as possible. Students will not be sharing lockers, supplies, or books. If needed, shared items such as iPads, SmartBoards, science equipment, etc. will be thoroughly cleaned between students. 
Q: What is the uniform policy?
A: To ease the requirement of washing uniforms every day, we are considering allowing students to wear gym uniforms more frequently.  Through September, students will be allowed to wear their regular uniforms or their gym uniforms.  
Q: Will Country House hot lunches be provided?
A: Yes!  Country House will be on campus providing the same menu as last year, however, all lunches will be individually packaged.  They will follow the CDC guidelines for food and safety practices. 
Q: How will lunch procedures be carried out?
A:  At this time, we are working through the logistics of our lunch procedures.  Whether students are eating in their classroom, or in another space, they will remain exclusively with their cohort and will be socially distanced to allow for the removal of masks.  
Q: How and where will recess take place?
A: Recess will take place outdoors with cohorts assigned to specific sections of the parking lots.  To ensure students are able to maintain social distance and remove their masks, we will be utilizing the Southwest upper lot and both lower lots for recess this year. 
Q: Will extended day be offered?
A: Yes, we will continue to offer extended care, with a maximum of 50 students allowed to participate. We are actively developing a plan with specific requirements including safe spacing, additional time outside.
Q: Will extracurricular activities and sports take place?
A: At this time, extracurricular activities and sports most likely will not take place.  We are still waiting for a final decision concerning extracurricular activities and sports from the Archdiocese of Chicago.  However, due to social distancing concerns, these activities may be delayed, adjusted, or canceled.  Please check back here for updates as they become available.
Q: How will assignments/homework be handled if my child is absent from school?
A: If your child is absent, we will follow our normal absence model.  Students will receive reports with the day's assignments. Teachers will have virtual office hours to address questions from students who were absent.
Q: Will there be hot dog days, fun lunches, and classroom holiday parties?
A: As per the guidelines set forth by the Archdiocese of Chicago, volunteers are not permitted to be in the building, thus eliminating these events until further notice.
Q: Will FSA and Dad's Club fundraising events and social gatherings take place?
A: Per the Archdiocese of Chicago guidelines, all fundraising events are to be canceled. Stay tuned for information from the FSA on new opportunities for families to connect throughout the school year.
Q: What will a typical preschool day look like?
A: To keep our preschool day as normal and engaging as possible, we are providing these safety measures:
Preschoolers are required to wear masks.  We will be building our daily schedule around mask breaks, i.e. snack and outdoor time.

Classroom furniture has been rearranged to allow for social distancing.  

Children will use individual supply kits.

Toys, manipulatives, and materials will be individually packaged for each student's use.

Used toy bins will be provided so that toys and materials can be cleaned and disinfected daily. 

Since carpets have been removed from the classrooms, "carpet time" will be presented by utilizing the entire classroom space to afford social distancing. 

Children will take an additional handwashing break after playtime, in addition to their normal bathroom breaks. 

In lieu of classroom visits before the first day of school, we will be providing virtual tours with a special message from classroom teachers. 
Q: What cleaning procedures/updates have been done over the summer?  What will the daily cleaning procedures be?
A: Each classroom, hallway, bathroom, and meeting space has been cleaned and will receive a deep cleaning shortly before school begins. 
Classrooms will be disinfected each night with a sterilizing machine, and staff will be spraying down classrooms when not in use. Maintenance staff will be cleaning bathrooms every 60-80 minutes.

Where possible doors will be propped open, high traffic areas, door handles, handrails, and surfaces will be disinfected. 

While we are blessed to have air conditioning throughout the building, we will also have classroom and hallways windows propped open to increase airflow.
Q: Will there be temperature checks? How often?
A: Please check your child's temperature BEFORE leaving the house.  If your child has a temperature of 100.4 or higher, your child should be kept home from school. You should then contact your child's doctor and the school's main office. 
During morning arrival, school personnel will greet your child at either the bus or their car to check each child's temperature and ensure they do not have 2 or more of the CDC Symptoms of Coronavirus.
As students enter the building they will be provided with hand sanitizer by their homeroom teacher who will check to ensure that masks are present and properly worn.
Q: My child requires medication during the school day, will I be allowed in the building?
A: No visitors will be allowed to enter past the main entrance and will be required to wear a mask at all-time in the building. The nurse's office will be moved to a larger space and parents will be given special access if necessary.
Q: What happens if my child displays symptoms of Coronavirus at school?
A: Per the CDC and Office of Catholic Schools, (as of 7/15/20) the procedure will follow as listed below:
If a student is exhibiting a fever or two or more other COVID-19 symptoms, they will be escorted to the Nurse's Office (Commons).

Parents should be immediately contacted so the student may be taken home. If we cannot reach a parent directly we will reach out to emergency contacts.

The student will be directed to see a doctor to assess symptoms and/or administer a COVID-19 test. We encourage parents to read the

CDC guidance for caring for oneself and others

.

For students that see a doctor and it is determined the illness is not COVID-19, either through a test or the doctor's diagnosis, the student may return to school when symptoms subside with a doctor's note confirming the negative COVID-19 diagnosis.

If the student has symptoms but has tested negative on a COVID-19 test, they should remain at home until symptoms disappear. They must provide a doctor's note or the documented COVID-19 test results before being allowed to return to school.

If a student tests positive for COVID-19 or does not seek medical attention, students must isolate and not return to school until they have met CDC's criteria to discontinue home isolation, which currently includes:

Three days with no fever and

Other symptoms improved by 75 percent and

14 days since symptoms first appeared.

Students will be allowed to complete and submit work remotely during time away from school.
Q: What happens if a Student /Teacher tests positive for COVID-19?
A: The student, employee, or volunteer should be sent home and monitored for ongoing symptoms. To keep the privacy of those affected the school will not disclose the specific identity of the infected individual to parents or any employees who do not need to know. For example, it would be appropriate to inform a homeroom teacher if a student in the teacher's class has been diagnosed with COVID-19. 
The student or employee's classroom/work area will be thoroughly cleaned. The school will carefully monitor the health of students and teachers who are part of the infected individual's cohort.
If a second student or employee in the cohort is diagnosed with COVID-19, the entire cohort will quarantine and shift to distanced learning. Principals should contact their regional director for further instructions before initiating a Cohort Quarantine.
When cohorts are quarantined, the entire cohort (students and employees) are sent home. They are asked to remain home until they have met the CDC's criteria to discontinue home isolation, which  currently (7/15/20) includes:
Three days with no fever and

General symptoms improved by at least 75 percent and

14 days since symptoms first appeared or

14 days since exposure to the infected individual(s) for asymptomatic individuals.
If a cohort is quarantined our eLearning plan will go into effect while the Cohort is at home, which includes recorded teacher lessons, teacher office hours, and extended time to submit assignments. 
The school will distribute a Cohort Quarantine Letter to all families and employees when a cohort is placed in quarantine. The school will continue to closely monitor the health of all non-quarantined students and employees.
In cases of widespread infections in a school (particularly multiple cohorts), St. Michael School may be quarantined. 
Q: What is the procedure for masks?
A: All individuals in school buildings (students, employees, visitors/volunteers, etc.) must wear face coverings at all times unless they are younger than two years of age. Social distancing of at least six feet apart must be maintained in the moments when masks are not worn (example: lunch and recess). Families will be asked to purchase at least two reusable masks for their children, with the expectation that masks will be washed after every school day. Students using disposable masks should discard them at the end of the school day and parents should provide extras to replace a damaged or lost disposable mask. All students and employees will receive training on proper mask-wearing.
We recommend purchasing 2-5 masks per student. 

St. Michael is NOT requiring a specific mask, however masks with distracting messages or images will not be allowed.

We are building our daily schedules around mask break opportunities, i.e. snack time, outdoor learning, and specific break times to allow for the safe removal of masks.

For younger students, it is recommended to practice wearing a mask at home prior to school starting.  Encourage your child's proper mask hygiene by not touching the mask and wearing it for 20-30 minutes at a time, multiple times throughout the day. 

In the event that your child's mask is damaged during the school day, a one-time use mask will be given to them.
Q: What happens if my child is sick?
A: As of today, if your child is sick and tests negative for COVID-19, they must remain at home until they are symptom-free for 72 hours. If your child is displaying CDC Symptoms of Coronavirus we ask that they are kept home until a negative diagnosis or letter from a physician can be obtained. 
Q: My child sometimes displays a symptom of COVID-19, do I keep them home forever?
A: If the School Nurse/Office does not have documentation explaining a particular symptom because of a previous diagnosis such as an allergy we encourage you to contact Nurse Nettie so that we may monitor your child(ren) for additional or unusual symptoms.
Q: I do not feel safe sending my child(ten) to school. How can we continue eLearning?
A: Per Archdiocesan guidelines, eLearning will be offered.  You may stay enrolled at SMS and continue to pay tuition, but remain at home and participate in eLearning through the Archdiocese. Because eLearning will be provided through a third party, your student will not have contact with Saint Michael School teachers.
More information regarding continued eLearning from the Archdiocese of Chicago will be provided as the eLearning plan continues to develop.  Please check back here for updates as they become available.
Please check back to this page for frequent updates!