The theme for the 2019/20 school year is Angels Among Us.  As we go about our day, we know we are surrounded by many Angels. Some of these Angels are heavenly, and they provide us with inspiration, guidance, and protection. Other Angels are earthly… we benefit deeply by the talents and help of our dedicated teachers and staff, students, volunteers, and other supporters.  Each week, we'll be updating this post with stories and pictures of the many Angels Among Us at Saint Mike's.
9/26/19
This weeks "Angels Among Us" goes to Mrs. Brennan's 2nd Grade class. Room 9 earned 50 compliments for respectful behavior resulting in a PJ day!
"The children are being very good leaders in the lunchroom when it's time to quiet down." – Mrs. King
"They were hard working, polite, and followed directions very well." – Mrs. Mata
"The 2nd graders in room 9 were quiet in the hallways… they are great examples of proper hallway behavior for Kindergarten!"  – Mrs. Hahn
"During iReady testing they were great at following directions and listening to Mrs. Brennan."  – Mrs. Morrissey
Thank you to these little angels for being such a great example to all students and thanks for spreading positivity!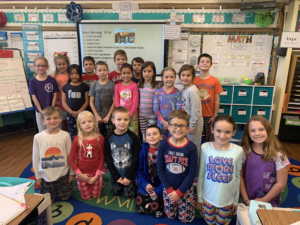 9/19/19
This weeks "Angels Among Us" goes to Mrs. Bailey's 4th grade classroom who devoted their time to cleaning up the courtyard.  These "Courtyard Capers" scrubbed, washed, and pulled weeds.  To complete the beautiful outdoor space, the class also painted and hung birdhouses.  The project completed the activities in conjunction with their Religion unit on Creation.  Click here to view a video of the project made by Mrs. Bailey.
Great job Wildcats!
9/12/19
This week, we'd like to extend a huge THANK YOU to the Girl Scout Troop 65457 and their leaders for spending time out in the heat yesterday to walk the grounds and clean up the parking lot ahead of Fall Fest!  Thank you for being Angels Among Us!